FOSTERS A THRIVING AND INFORMED BUSINESS COMMUNITY BY PROVIDING INNOVATIVE EDUCATION  THAT IS TIMELY RELEVANT AND BALANCED
---
Mission Statement
Balanced Politics
The BEC proudly brings you informative political discussions including candidates forums, city-addresses and more. It is our policy to present balanced speakers aimed to help inform the businesses community about policies and civic discussions that may affect our community.
Growing
From intimate seminars to large-scale networking events, the BEC aims to foster your business' competitive edge. Keeping you one step ahead of the game makes our economy strong, nimble and creative.
Communication & Learning | Multitasking
Enjoy engaging podcasts aimed to help your business grow. The best part? Enjoy them from the convenience of your office or on the job or wherever!
Experts
Learn from experts! The BEC connects you with experts in all fields related to business and community. From HR to marketing; the resources available to your business can help support our local economy.
Community & Business
Gain a strong grasp on projects coming to town as well as the potential business partnerships that could develop for you and your organization. By connecting business with the plans of the future, your organization can prepare and build strong strategic plans.
Business Education Calendar
The views, topics and discussion expressed during BEC events do not reflect the views, beliefs or stances of any of the committee members, member business, or the Novato Chamber of Commerce. Topics are chosen based on the need for education and their relation to the mission of the Business Education Committee: to foster a thriving and informed business community by providing innovative education that is timely, relevant and balanced"
May 2019
If political discussions are brought up, the aim is to present information with the goals of understanding a deeper appreciation and grasp of the topics. The goal is not to influence or coerce. The BEC works to provide balanced views and help the business community understand the fallout from political topics.
Upcoming & Historical Events 
---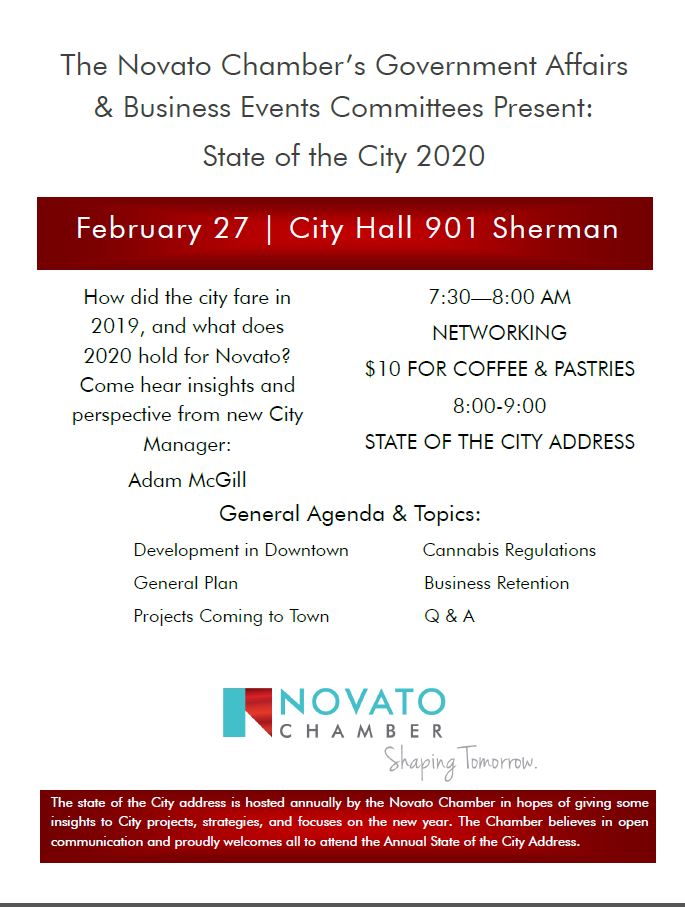 REGISTER TODAY
State of the City 2020.
7:30 AM - 8:00 AM
Networking / Coffee & Pastries
$10 Registration for Guest
8:00 AM - 9:00 AM
State of the City Address, Q & A 
Thursday, February 27, 2020


City Hall 901 Sherman Ave | Downtown Novato



Novato Chamber Endorsement Process
PAST EVENT | July 23, 2019 | The Proposed Cannabis Regulations for Novato
Get your questions answered as City Council begins to weigh the staff recommendations for the future of cannabis operations in Novato. 
Hear from City staff the proposed zoning and business permitting regulations. Learn how businesses work with employee HR and compliance regulations related to cannabis. Hear from owners of cannabis-based businesses to learn about their industry and learn about the potential tax revenue streams for Novato.
The Business Education Committee (BEC) has filled the room with experts from public safety, city zoning, and the cannabis industry. Ask your questions and learn what is in store for the community.
Together with our panel of experts, we hope to demystify the rumors and unknowns about the cannabis regulations proposed for the city of Novato.
Understanding proposed zoning & land-use
Examples of local neighboring cities' cannabis regulations /effects on commerce & public safety
Opportunity to network and discuss questions with city staff and experienced owners of private cannabis businesses.
Do You Have Questions? Contact the Novato Chamber Team!
If you have any questions about this page, the Novato Chamber's history, marketing, social media, branding or if you want to learn more about utilizing the Chamber's marketing arm for your business, contact Theodore Madias, click here to send an email!
Pat Eklund Pam Drew Councilmembers Founding Hutch Turner Novato Chamber San Rafael Chamber Petaluma North Bay Community Eric Lucan Sonia Tanner Arnold Shroyer Santa Rosa Metro Leadership Exposed