Connecting Community
The Novato Chamber is well connected and our community is influential.  Noontime Networking allows us to bring you face-to-face with local leaders, industry experts, and community organizations, and your business will thrive from building these influential connections.
---
NOONTIME NETWORKING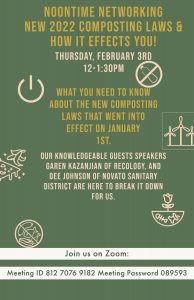 Novato Chamber of Commerce Noontime Networking Brings Great Topics and Discussion to the Noontime Networking Discussion.
I applaud the Novato Chamber for bringing people from outside the Novato Community to help our businesses grow, Madeline spoke well about the issues facing Highway 37 and what we as businesses can expect in the coming years.
Alan A.
Exchange Bank
Presenting at NN was great! It was nice to hear from the community directly and get perspective from them. 
Renee S. 
Gilead House
Having the opportunity to answer questions related to one of Novato's key assets (Gnoss Field) has helped our sleepy airstrip grow in prominence, thanks to NN. 
Ken M
Gnoss Field Pilots Association
Whenever we do a project, it is vital to get buy-in. The Novato Chamber's NN allowed us to get in front of over 70 people to help bring this new development project to Downtown.
Daniel M
Dan McDonald Architects;
First & Grant Project
I loved spending my afternoon with the Novato Chamber group, engaging with the North Marin business community about a topic as critical as CA-37 has helped spread the word and concern. 
Madeline Peters
Mayor, Mill Valley
Email the Director of Events, Chrisitna Niles to bring your discussion to Noontime Networking
Email the Chair!
WIN is our Wednesday morning networking group and it is beastly! Boasting 25+ regular attendees each week, WIN is a great way to generate referrals and get the low-down on the Novato community! Every Wednesday 7:45 am - 8:45 am.
FREE to attend (and complimentary coffee)
Membership in the Novato Chamber is more than succeeding; it is knowing someone is representing your interests and concerns on a local, regional and state level. It's knowing that you have a resource and an ally, and it is knowing that we want to see our community succeed together. We proactively Shape Tomorrow, check us out!
Read More
Order / Re-Order your Novato Chamber badges. Order your committee badge, board/ambassador badges, and now purchase replacement Leadership Novato Alumni Badges and a (new) general Membership Badge. Order form available online!
NEW BADGES
Do You Have Questions? Contact the Novato Chamber Team!
Pa Eklund Pam Drew Councilmembers Founding Hutch Turner Novato Chamber San Rafael Chamber Petaluma North Bay Community Eric Lucan Sonia Tanner Arnold Shroyer Santa Rosa Metro Leadership Exposed